Welcome to the Tokyopop's Phantom WikiEdit
Welcome to the online fan-made encyclopedia for the Tokyopop manga comic series by Ki-Hoon-Lee and Seung-Yup Cho. This Wiki is still in development but should grow soon. This Wiki is free for anyone to edit!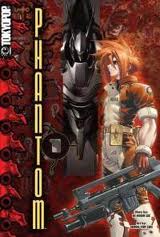 Tokyopop's Phantom
Edit
Phantom is a Tokyopop manga comic series ranging five issues. It was written by korean writer Ki-Hoon Lee and the art by Sueng-Yup Cho. The comic is set in the far future, after meteorites rain down onto the earth, damaging the surface of the planet. A war started between Earths inhabitants to secure the remaining resources. The comic takes place a few years after the events of what was known as 'The Meteo Rain' starring a young police officer named K in pursuit of a terrorist. In the futuristic universe the comic has created, a common form of transport, both civillian and military, are TC's (Tactical Costumes). TC's act as an outer suit for the pilot to command.
Latest activity
Edit